Convivial Thinking offers spaces for like-minded to get together, learn from each other and co-create. Some results of these collaborations are collected here:
The latest issue, Vol. 52 No. 1 (2020)  of Acta Academica contains the Special Focus: How do we know the world? Collective engagements with the (de)coloniality of development research and teaching. The Special Focus was guest edited by the Convivial Thinking Writing Collective.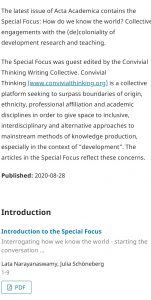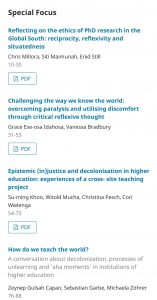 ---
The latest issue (Vol. 21 No 7 (2020) of the Journal for International Women's Studies hosts a  Special Issue on In Medias Res: Decolonial Interventions, which was co-created by Su-ming Khoo, anique vered, and Sayan Dey among a host of critical decolonial thinkers and activists.