Ongoing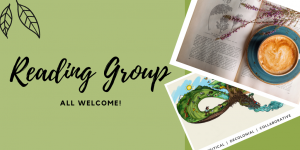 Every second Wednesday
9am Quito | 2 pm Accra | 3pm London | 4pm Brussels | 7.30pm Delhi

We are reading  'The Nutmeg's Curse. Parables for a Planet in Crisis' by Amitav Ghosh.  The upcoming  session is on 1 June (chapters 11,12,13).

From the book cover:
"A powerful work of history, essay, testimony, and polemic, Amitav Ghosh's new book traces our contemporary planetary crisis back to the discovery of the New World and the sea route to the Indian Ocean. The Nutmeg's Curse argues that the dynamics of climate change today are rooted in a centuries-old geopolitical order constructed by Western colonialism. At the center of Ghosh's narrative is the now-ubiquitous spice nutmeg. The history of the nutmeg is one of conquest and exploitation—of both human life and the natural environment."
The reading group is open to everyone and provides a space to engage into discussion and exchange with like-minded. No prior knowledge is required.
All welcome.
---