by A.B. Godfreed
Go on,
put this trite piece
aside
let it loose to go
find anyone
where you are
right now.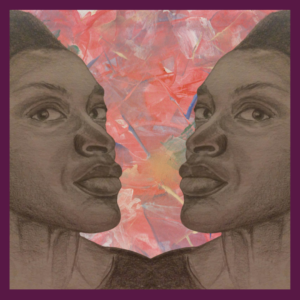 Search
each room,
look for other lost
souls
and do this.
It's a must.
Alone?
All alone!
Then, stride out
into the street,
grab
the first one you meet:
man, woman, child, even the dog down the road.
Go!
Find
someone
gaze into his/her/its
eyes
which must not be
encumbered with so many pronouns,
when translated into
other tongues.
Just do it!
Hold
anyone
close enough to watch
yourself in a stranger's eyes,
always black pupils,
undiluted
scenes of you in miniature,
looking deep into
sights unseen
of you
looking deep into
the Other
who sees you &
vice versa
but
with a rose-scented feeling
while
corazón latido
a symphony
yet
unknown,
notre amour
beyond the bevy called "in love."
For this is it,
this us
sentipensante;
this us
when akoma feels other
than how it is taught to think
in some type of separation
of
down is not up
there is not here
then is not now
wrong is not right
they are, most definitely, not us
not only bad but also opposed to our good
abounds
in every glib gesture of
"Go way you!"
Can you feel it?
Did you try it?
Or
do you still
look for life on these dead pages
through this contrived
convolution,
even as I might just be there—
outside your door
waiting
for our encounter with the truth
of who we are
when
waiting
for our hearts to speak
instead of your interpretation of
these well-worn words
of mine.
Glossary
akoma (Twi)                           heart
makoma asεm (Twi)           matters of the heart
corazón latido (Spanish)   heart beat
notre amour (French)          our love
sentipensante (Spanish)     sensing-thinking
Go way you! (Ghanaian pidgin)   Get lost! Scram!
#love #heart #poetry #feelings #thoughts
A.B. Godfreed writes poetry and narratives, as well as produces iCollective Art and experimental beatmixes, which are shared on A.B. Godfreed Prosetry & Pic(k)s and various social media platforms. A.B. Godfreed engages in these eclectic endeavors as a way of creating "work that makes life sweet", while also highlighting diversity and yet epigenetically entangled oneness—in all its intelligence and beauty.