by Sreerekha Sathi 
Hard work which never pays, that has been the story of India's public health workers. Their hard work, care, and attentive love for the country's most vulnerable has entered a new phase under the COVID-19 pandemic.
"They hit my daughter on the head with an iron rod," said a health worker in October 2020, to the British news service Sky News. The health worker added, "One woman bit me and said I would be infected too. They beat me and my son mercilessly… All because I tracked down one of their family members who had coronavirus". Seventeen-year-old Suman barely survived a brutal attack on her in May 2020, in the country's northern state of Haryana. The attack was in retaliation against her mother, a health worker, who had put up a quarantine notice for a neighbor as part of her duties. Just a month prior to it, Subhadra, another woman health worker and her family members were attacked in her home by a man from the neighborhood. These women are part of India's government run public health scheme known as Accredited Social Health Activists (ASHA) initiated in 2005.
Interestingly, though employed under a government scheme, ASHA workers are described as activists and they are not considered part of any professional workforce. Their work is voluntary and temporary though they are employed on long-term open contracts and they are paid an incentive (not a wage or honorarium) based on their performance. Most of the welfare workers operate in their own or neighboring communities. Many such stories of mental and physical abuse are shared by other women too who are part of the ASHA scheme and other similar state-run schemes like the Anganwadis and the Auxiliary Nurse Midwives (ANMs). During the lockdown, ASHA workers have been collecting data on COVID-19 patients, providing counseling and creating awareness in the community. At the moment, they continue to do so in the field, doing door-to-door surveys including in containment zones/hotspots. This work profile is creating the risk of them being boycotted and attacked by local people in some situations and also being accused of spreading the virus. Not surprisingly, these women workers are also becoming susceptible to COVID-19, as is the case for health workers in other countries.
In 2006, while living in Delhi, I witnessed a massive well-organized hunger strike by thousands of women welfare workers from Anganwadis all over India, demanding better wages (these workers are still not paid a legal wage but an honorarium which can vary between states and schemes) and job security. With the inspiration I got from witnessing this strike, from then until now, I have continued to follow the struggle for the labor rights of these women welfare workers. Over the past decade, the number of state welfare workers and schemes in India have increased tremendously and the existing schemes have expanded. Between the three major welfare schemes only, which are the Anganwadis, ASHAs and Mid Day Meal workers, there are around 5 million women workers. Though, through organised efforts, the women workers have been successful in attaining an increase in their wages, in terms of their rights towards recognition, fair wages and regularisation of work there is still a long way to go.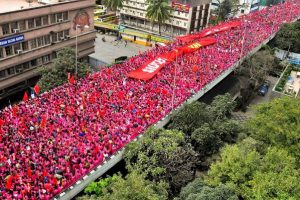 In the current circumstances of COVID-19, these workers are burdened with more and more work. To know more about some of their stories, in the month of June this year, I asked Mohd Akif Siddiqui who lives in Delhi, to speak with a handful of ASHA workers. Keeping in mind safety measures with the pandemic situation, Siddiqui spoke over the phone with six ASHA workers, all of whom live and work in various parts of Delhi. This article is informed by the information shared by him based on his conversations. Only women aged between 25-45 years are employed as ASHAs and they are paid an incentive based on the services or activities taken up by them. For example, getting the vaccination of an infant fetches them ₹150, a medical checkup for a pregnant woman pays ₹200, accompanying her for a hospital delivery pays ₹400 and helping with birth control pays ₹500 and so on (note: $1 USD equals ₹74 INR). The amount varies between states. Each public health center has around ten ASHA workers, divided up as one worker for a thousand people and there are around nine hundred thousand ASHA workers in India today.
Prior to the COVID-19 pandemic, these women had a routine of helping with pregnancies, childcare, immunization, care for the elderly etc. They also conduct surveys and collect information on patients with cancer, leprosy, tuberculosis and HIV/AIDS and keep records of deaths in the community, including information on the cause of death. They maintain health registers and mobilize families in the community around health matters. The incentive paid to India's women workers in the state social welfare schemes like ASHA is much less than the legal minimum or living wage. In 2005, when the ASHA scheme was initiated, it offered a minimum incentive of ₹1300 ($17) per month. Fifteen years later, in most states they are still paid an amount between ₹2000 ($26) to ₹7000 ($93) per month. Often, these payments are delayed for months. In order to get paid, they have to show proof of accountability for each task they take up and its completion.
With the spread of the pandemic, the regular activities of these health workers have been stalled. Further, no one else attends to those duties today. As a result, their services to those who need it most, especially the poor, remain suspended. Unlike women from both middle-income and high-income groups who can afford private hospitals and do not necessarily need help from these health workers, poor women have no options. The poor and the marginalized in India are fully dependent on public health centers and health workers. The vacuum created by the pandemic is huge. Many lower income working class women who need help with pregnancies and giving birth do not have it, leading to the deaths of hundreds of newborns and pregnant women. There is no support for women who want to take birth control and avoid unwanted pregnancies. During the pandemic, these workers are expected to support those who are in self/home isolation. If the area is declared a hotspot, these workers are required to survey 50 neighboring houses for anyone with symptoms as a preventive measure and are offered an incentive of ₹1000 for the visits. They help those with symptoms with testing and collecting reports of their results. Sometimes they help distribute masks, medicines or even food for those in need, other than providing further guidelines for home isolation.
India's health workers have shown tremendous courage and commitment in facing the COVID-19 crisis. They have been in the field for the past several months, facing the risk of getting infected themselves. They are not from privileged backgrounds where they can afford to self-isolate themselves in their homes. The pandemic has led to a cut in their incentive for attending to a smaller number of cases. Working for an incentive itself makes them vulnerable to abuse or humiliation. There is no extra pay offered even though they are working even on weekends. In most states, there is no guarantee that work will pay, or it would pay as it deserves. Further, a report released in September 2020 as part of the Global in Women's Health series shows that many workers are paying from their own pocket for purchasing gloves, masks and sanitizers. In fact, many of them are in the field without masks and hand sanitizers or access to any other protective measures. Even while taking up a task like fighting COVID-19, their payments are delayed.
During the pandemic, regular hospital visits are risky, however health workers can't avoid it if they have to attend to their work. While doctors or nurses are provided with masks, health workers aren't. Home visits in the community put them at a higher risk. When a worker is back home from the field, neighbors complain of putting them at risk. Like the stories of physical attacks, some workers had their neighbors stopping them from completing their tasks and even threatened them so that they had to call for police protection. Following the attacks, some of these women also face an uncertain future with no support system to recover from the physical or psychological injury along with the lack of job safety. In the past few months, multiple incidents of attacks on medical professionals, nurses or doctors have been reported in many parts of the world. In India too there are reports on doctors or nurses facing issues like loss of accommodation due to the risk they carry with their work. However, unlike those professionals who have a better support system and a safer workplace to go back to, these women health workers mostly do not have the resources or a support system whether in their families or communities to help them get back on their feet.
It is undoubtedly clear that COVID-19 has a detrimental and discriminatory impact on the poor worldwide. Further, within all the marginalized communities, women's experiences with COVID-19 have been much more unequal than others. Adding to the pre-existing patriarchal structural issues like the feminization of poverty (Chant, 2008), many women and young girls have also been victims of domestic violence and sexual abuse or rape in recent months during the lockdown or self-isolation period. It is women workers and other activists in the field who provide care for women who are victims or survivors of domestic or sexual abuse. With officially reported COVID-19 cases reaching more than 9 million in India, no one is even talking about such stories anymore.
Globally, women at the margins contribute much towards building care for the environment and for their communities. Care work, which largely women perform in this way, is foundational for human social relations, especially for communities in the Global South. This is definitely true for India which depends heavily upon the community work done by women (Razavi, 2012).  Care work by women continues to be part of everyday survival. Further, it is the very same women who have lost their land and livelihoods or are forced to migrate to the cities looking for a livelihood who are now being used/employed as health or welfare workers by the state and other institutions to protect and provide care to others.
Many women in indigenous or other marginalized communities in India consider themselves to be part of a collective not individual existence. This belief inspires many women to take up work like social welfare work to go beyond the individual and beyond the family and dedicate themselves to the community, even when they have very little resources and have no support system to rely upon. In some contexts, it is also desperation out of poverty and lack of livelihood which compels women to take up this work. State welfare programs in the Global South have majority women workers, because women are the cheapest labor for the contemporary capitalist economy and their conventional representation as natural care givers (Sreerekha, 2017). For governments, the availability of a cheap and desperate pool of women workers is always an advantage to employ them, forcing them to voluntarily serve their own communities (Ibid). 
The extension of care work to less/unpaid jobs in the public sector, employing working class women has been part of an attempt by the Indian state to incorporate women into the liberal welfarist development agenda. It also feeds into the cultural and social needs of local patriarchal and casteist institutions in India to use poor working class women's labor in its favor. Beyond the fact that these women already play a superwoman role of the triple burden, they are now being forced to work on behalf of the state. They feel responsible in times of crisis. They want to do more for others from their own communities. Many times, they are helping poor families or other women, leaving their own children at home with no care. The labor power of these women workers is thus fundamental to India's public health sector; it is both valuable and essential. However, the women workers do not get the pay, recognition, value, or dignity they deserve for their work.
The COVID-19 crisis is another moment, in addition to wars and other large-scale crises situations, where poor working-class women are being pushed to the limits of their survival. Women health workers continue to put their own lives and that of their families at risk. The risk to their lives is of course not only from the pandemic, it is also from the lack of resources, and the lack of worker empowerment that could stop others from facing the experiences of Subhadra, Suman and many others every day.
In the context of the present pandemic, these health workers are demanding a better wage and demanding their rights as workers. We must consider the increasing number of deaths of health workers around the world, which coincides with the lack of funding and proper protections for enough health workers. The most marginalized are not only given the responsibility to care for their own communities, in fact they are also being punished for taking this risk of helping the community. It is important to know and share their stories and to extend solidarity in their struggle to make the state and the community more responsible and accountable towards these workers. The story of the struggle of ASHA workers in India is not an isolated one.
The author would like to acknowledge Mohd Akif Siddiqui for help in conversations with ASHA workers in Delhi, India.
Sreerekha Sathi joined ISS in January 2020. Prior to ISS, she taught at the University of Virginia, USA, in its Global Studies Program, and at the Department for Women's Studies at Jamia Millia Islamia in New Delhi, India. Her areas of academic interest span theories of gender and political economy, feminist theories of development, women social welfare workers in South Asia, feminist research methodologies and epistemologies, social movements in the global south, caste politics in India and South Asia, land rights in India and Kerala Model of Development. She has written on gender, tribal land rights and development debates in Kerala, with a focused critique on the 'development' paradigm. Her first book "State without honour" was published in 2017 with Oxford University Press, India.
Photo Credit: Press Trust of India